Google has recently introduced the authorship markup, tagged rel=author, which ties websites' content with its writers' social media profiles.
When a content writer uses the rel=author tag, his profile picture will appear on Google search results alongside his name and will direct to his Google+ profile and to other articles.
Author rank, the authority attributed to the author, is now one of factors that affects search engine ranking. Websites with verified authors will be favored on search results and as a welcome side effect will be branded as experts in their field.
Google Authorship Verification
To have your author identity verified by Google, first you will need to open or edit your Google+ profile so it will meet with Google authorship terms.
1. Your Google+ profile should be identical to your name as it is displayed on your website or blog content.
2. Your profile picture should be a clear image of your face. (edit profile>photos>change profile photo)
3. Mark the checkbox "Show this tab on your profile". (edit profile>+1′s)

4. On the "about" tab, click "Other profiles" and then "Add custom link" to add links to your profile on other social networks such as Facebook, Twitter, Linkedin, etc.
5. If you have an "author bio" page on your website or blog, a page that lists your resume and is linked from your articles, also add a custom link to this page on "contributor to".
If you don't have this page, simply add a link to your website's homepage.
6. Though not necessary, at the same tab you can also fill in the "Occupation", "Employment" and "Education" fields – it will be added to your creditability.
7. For an alternative and simple verification method, enter Google Authorship page, fill in your email address and click "signup for authorship". Note that you can use this method only if your email address is identical to the website domain and the author's credit line on your articles is opened with the words "by".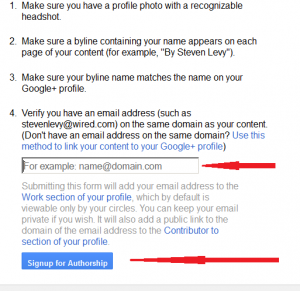 After you'll verify your email address, the website will be automatically added to your "contributor to" field on your Google+ account.
8. To validate the rel=author tag use Google Webmaster Tools Structured Data Testing Tool – paste the URL of your author bio page or website content page and click preview.
In conclusion, Google is trying to display reliable and professional content on the top search result pages, and the significance of site's content written by reliable and verified authors is likely to grow. Content writers, bloggers and and professionals can definitely benefit from adding the "rel=author" tag in their websites.
When someone wants to visit your website, it's far from ideal if the page they are looking for turns out not to be there. When this happens, the reader will get a page that passes the message that a 404 Error has occurred, this is more or less internet speak for "Wrong number".
There are a number of reasons why the reader might end up arriving on a 404 page; the most common ones are a mistyped URL or a page that has been removed by the site administrator.  The question is what this means in terms of Search Engine Optimization (SEO)?
Broadly speaking, there are three strategies for dealing with 404 errors:
The first SEO strategy is to write a 301 redirect order for all 404 pages; an instruction to direct the error page to a different page, either to the next most relevant page or to the home page. This approach might be called the 'Stalinist' approach. With this strategy no dissent is tolerated and regular reviews are undertaken to purge all 404 pages from the site.
The inverse strategy where you take inspiration from the Beatles and "Let it be" is the exact opposite of the strategy described above. This essentially involves doing nothing but doing nothing isn't really a strategy, is it?
A final option is to be selective. That means something between donning overalls (strategy 1) and falling asleep (strategy 2) and instead choosing which pages you want to redirect and those that you leave as they are.
If you're going to be selective then you have to select criteria upon which you base your choices (otherwise you're not really choosing in any meaningful way, just making random choices). If you are going to start getting choosy then the best way to do so is with the following criteria:
a)      Does the page receive inbound links from important external sources?
b)      How much traffic arrives at the page?
c)       Is there a specific page that the searcher was trying to reach?
An example of an SEO optimized 404 page
Image: Voosh Themes
If you are going to leave 404 errors, it is best to create a page which has a distinctive message and which gives the more determined user an opportunity to find either the page they were looking for, or if it doesn't exist -  the closest approximation.
Overall, the key is one of opportunity cost; you could fix all the 404 errors but unless this really is the most productive use of your time then you'll end up spending time that you could have put to use doing something that furthers your SEO strategy.
Link Building That Google Penguin Will Love
As far as zoologists are concerned, there are 17 types of Penguin, but to SEO specialists the only one deserving of attention is that created by Google. Google Penguin, also known as the webspam update or the over-optimization penalty, is the latest Google algorithm update that mainly targets sites with unnatural backlink profile. So, unless you want your website to end up on the endangered species list, you have to adjust to the new reality.
Google Penguin was one of the main changes over the last year have that caused many site owners to delete their backlink profile and to start link building all over again. Under these circumstances, the question is whether there is a safe formula for building links to a website? Which type of links should the strategy emphasize? Which will ensure your site remains off Google's radar? There are a whole host of links that you could still get:
Directory Links
These used to be a basis of link building for SEO purposes, but with rumors abound that Google has moved many free directories out of its index, they are by and large not worth pursuing. Overall, its not that these kinds of links are useless but they're not a priority.
Forum Links
It seems easy to get this type of link and it may be so, but placing too much emphasis on link building via forums might be a waste of time. Forum links are only effective if your links are useful and relevant to the forum's discussion; otherwise you'll end up watching as one by one the links disappear and your accounts get bumped. Manually posting spam isn't the way to build backlinks; it's not even the most efficient way to post spam!
Reciprocal Links
Unless you own a time machine, forget about this one. You might genuinely be helping users but as far as Penguin is concerned, this just looks like you're doing each other a favor to beef up your web presence (which is true). If there's a time lag between the two links this looks more organic but you can't make an effective strategy out of this one.
Weblog Links
Links on a blog can be a bit of a mixed blessing. Of course, if the blog is useful and relevant to your business then a link on these sites can be a good thing, e.g. a link to you catering business on a cookery blog. However, a link for its own sake can be more damaging than nothing at all, e.g. a link to your catering business on a blog about steam engines. One downside to blog links is that these tend to be site-wide links which are a type of link that is less helpful than it sounds (see below).
Site-wide Links
This is the type of link which sounds great to the uninitiated; a link that is promised to be on every page on a site. The only drawback is that Google will count this just the once, regardless of how many pages it appears on. This might help drive traffic but then again it might not.
Infographic and Widget Links
The idea with this type of link is that it goes viral and is thus posted all over the internet, including the embed codes which link to your website. These can be phenomenal and they shouldn't be dismissed out of hand. However, unless you have an awesome idea, this isn't something for the initial stages of SEO.
Social Media Links
These are another great way to get start getting links to your site. Social media marketing, i.e. building a presence for your business on social sites like Facebook, Twitter, Google+ or LinkedIn is a great idea in its own right but this also happens to be a good way to build links to your site. Even if the links are no-follow, they are worth having and this is a great way to increase your audience and reach potential visitors and customers.
Requested Links
These are the links where you are essentially asking site owners for favors. It's hard-work and the rewards are minimal but you might end up getting something you would otherwise have to pay for. It's worth trying your luck but this is not a strategy to use from the start.
Guest Post Links
These are a great way to get a link to your site and it's fairly simple: find a blog that encourages guest posts and suggest a piece which includes a link. However, this is far from a free lunch – you'll only get published if the content is good for the blogger and his audience. This is something that will only work if you add value and create content that is unique and useful. If you can get these they are definitely worth having. Again, it is recommended to choose blogs that are relevant to your business and have wide audience.
Local Links
A great way when you're getting started is to add yourself to the local pages of the three major search engines. This doesn't bring a volume of links but it will get you listed with the folks who control this whole show; Google, Microsoft and Yahoo. That pretty much guarantees that the link will remain in perpetuity, so they are worth having.
Editorial Links
We've saved the best 'til last. This is the type of link that everybody wants. It is the type most appreciated by Google. These are the links you get without making a request. The downside is that there's no formula for this (unless it's the formula for turning base metals into gold); you've got to write content that makes people sit up and take notice. That requires not only great writing and expertise – you also need time; time to write the content and time for it to be noticed.
Of course, you should aim for your site to be original and relevant but this requires patience and doesn't come with a guarantee. Ultimately, you can't base a link building strategy only around good content. Rather, this should be a principle underpinning whatever it is you are doing.
Anchor Texts following Google Penguin
That's the type of links covered and their respective merits but what about anchor texts? The changes Penguin has brought about means you also need to take the way that you link into account. The key here is variety; mixing it up between branded and keyword anchors, even using the URL itself can be good. Another tactic is long-tail keywords, this means having the link spillover – so to speak- to include words which surround the keyword(s).
Overall, the most important thing in link building is to make it relevant and useful to searchers. However broad your mix of linking strategies and anchor texts, if what you're linking to isn't helpful or relevant to whoever is searching then best haul your bones back to the drawing board.
Google Algorithm Updates 2012
2012 has been a big year in terms of search engine optimization (SEO). Google has made numerous changes throughout the year to its search algorithm and index, some of which included penalizing sites that used what were previously common techniques in the SEO industry.
Many people don't understand just how much the Google search rankings can change over time, especially if their website has not changed, however, Google algorithm updates can have a big impact.
The biggest change was the introduction of Google Penguin. In short, this update penalized SEO techniques such as keyword stuffing or other spam-like techniques. The aim was to punish sites which place more emphasis on ranking high on Google's search engine rather than grabbing the attention of real people.
Here's a quick rundown of the major Google algorithm changes since January:
January
January 5th saw the release of a new pack which contained 30 changes, the most important being in respect of the image search results. Just five days later, Google published an update called "Search Plus Your World" which pushed social data and user profiles from Google+ into the search engine results page (SERP).
January 18th saw the release of Panda 3.2- Google announced that this was a data refresh rather than a major update, but this was followed a day later by an update punishing sites which had "too much" advertising above the fold.
February
February began quietly but sparked into life on the 17th with the release of an update dubbed "search quality highlights". This update mainly affected the speed of the results and the spell-checker within the search engine. Three updates were released February 27th, "Venice" which made search results more local, a service pack update which again improved on the image search function and Panda 3.3, which appeared a minor update affecting few search results.
March
Towards the end of March Google released Panda 3.4. This update, according to Google's statements, impacted about 1.6% of search results but they revealed little else.
April
April got started with the release of a Google search updates pack on the 03rd. The main consequences were in changes to text-anchor scoring, an update to the image search and changes in hoe local queries were interpreted by the search engine.
On the 16th April Google announced they had fixed a bug which was mistakenly marking down some domains as if they were parked domains. This was not an algorithm change merely a correction. Three days later, Google inaugurated Panda 3.5, which by all accounts was a routine update with minimal impact on SERPs
The real surprise came on 24th April with the release of the "webspam update", which became known as Google Penguin. Affecting something around 3.1% of English language searches this update penalized tactics such as keyword stuffing. A few days later saw the roll-out of Panda 3.6, another routine update.
May
On 04th May, Google published more details about the algorithm updates from April, including some changes that were tied to Penguin. Google revealed that the base index had increased by 15% whilst there was also the announcement of tiered search results, essentially, results being categorized by relevance to the search term.
Mid-May saw the introduction of the Knowledge Graph, a display panel integrated  into SERPs which provides supplemental information about persons, places, etc.  The final action for the month came on 25th May when Google announced the introduction of Penguin 1.1. This confirmed that Penguin data is processed outside of the main search engine.
June
On 7th June, Google updated the pack with 39 changes, the most noticeable being improvements in Penguin and updates to Google news. A day later saw the promulgation of Panda 3.7 an update affecting less than 1% of search results, although this was substantially more than the previous two Panda updates. Just before the month end Panda 3.8 was released, but this was a data-only update.
July
July was a quiet month, aside from a links warnings issued on the 19th, which were subsequently recanted, the major news was the update to Panda 3.9 on 24th July. Again this affected less than 1% of queries.
August
August saw an unusual move from Google with the announcement that they would start penalizing sites who repeatedly violated copyright. According to Google, this will be done via DMCA takedown requests. Just four days later, on August 14th, Google announced that the top-10 would more often show a top-7 for many queries. This was estimated to affect about 18% of keywords.  The most recent update came on August 20th with the release of Panda 3.9.1 – the impact of which appears to be marginal.
Google Search Updates for April 2012
Google search team did not rest this April; On top of the Penguin update, two Panda updates and several April fools inventions, Google announced 53 more updates, improvements and tweaks made on Google search algorithm last April.
The biggest news concern Google index expansion and reorganization:
Google main index, where all the web documents crawled by Google are stored and all search queries are matched against it, was increased by 15%.
This index is tiered, and different documents are indexed on different rates according to their potential relevancy to users. This month, Google has introduced "additional indexing tier to support continued comprehensiveness in search results".
Google has also introduced several updates that seem related to the Panda and Penguin updates. For example, a domain diversity update that diversifies the number of domains that appears in search results to avoid search returns with too many results from the same domain. "Improvements to how search terms are scored in ranking. […] One of the most fundamental signals used in search is whether and how your search terms appear on the pages you're searching. This change improves the way those terms are scored." Below Google mentioned a "Keyword stuffing classifier improvement" designed to detect sites that use this technique.
Google has also worked on the freshness factor and said that they will promote sites that meet this criterion and publish fresh content. At the same time, they have notified that low quality websites will not have this advantage and will not be promoted despite publishing the freshest and hottest news items.
Internet Solutions:
Web and Search Engine Marketing Solutions
Search Results Optimization (Paid and Organic)
Brand Management and Reputation Monitoring
Social Media Marketing, including SMO
Marketing Process Management and Assimilation
Target Oriented Marketing (Conversion)
Competition Research and Analysis
Social Media