Ohio (and the World) against Google
Another lawsuit was filed against Google, this time by the state of Ohio. The lawsuit main claim is that Google uses its dominance in internet search to promote its own products and web assets instead of its competitors. It also complaints against Google's infamous zero click results, which either leaves the users in Google's results page or sends them to other Google-owned platforms, such as YouTube, Google Flights, Google Maps, etc.
Of course, it is not the first time that Google is being sued for discrimination and anti-competitiveness. In 2020 alone, three anti-trust lawsuits were filed in the US. Since 2010, the European Union opened several investigations against Google for violation of the EU competition laws. For example, by promoting Google Shopping results regardless to their relevancy to the search query and by using its dominance in the smartphone market to promote Google's owned apps and services. Google was found guilty in all these claims and was fined a total of more than 8 billion euros.
Ohio State suit is different, as it demands Google to act as a carrier of public utility, like a gas or an electricity company. That way, they will be required to treat everybody equally. The equal treatment is expected to be reflected in all types of search results, including ads organic results such as Knowledge Graph and Featured Snippets.
Google's Response
"This lawsuit has no basis in fact or law", was Google response. Google also claimed in response that it cannot be compared to other common carriers. Moreover, accepting the lawsuit claims would have negative effect on the relevancy of the search results, and would make it harder for small and local businesses to interact with customers.
To Google's credit, we must admit that it has a point. The websites' ranking in Google's search engine is based on a complicated algorithm. Thanks to it, Google is more useful and popular than earlier versions of internet search engines. Also in favour of Google, we can say that in theory, all websites can appear on its search engine, and for free. However, to be actually found by potential customers (who would rarely scroll down to click the fifth results, not to mention the second results page and onwards) would cost money (i.e. Google Ads or investing in search engine optimization).
Still, you cannot argue with the fact that in recent years Google takes more traffic from other websites. From zero clicks results in calculators, weather forecasts and simple questions (for example, who is the current prime minister of Israel?) to Google News, Google Shopping, Google Flights and Google Hotels – many searches don't send traffic to any websites.
Zero Clicks and the declining CTR
According to a recent research, about 65% from all Google searches (both mobile and desktop searches) ended up with no clicks or traffic to an external website. In mobile searches, about 77% led to zero clicks.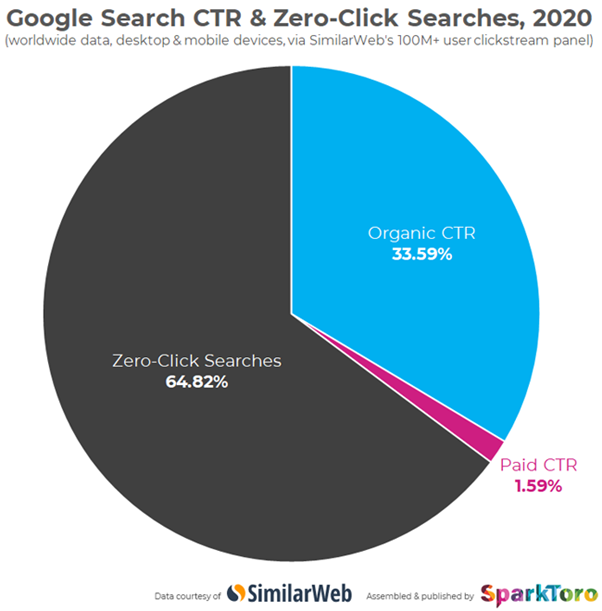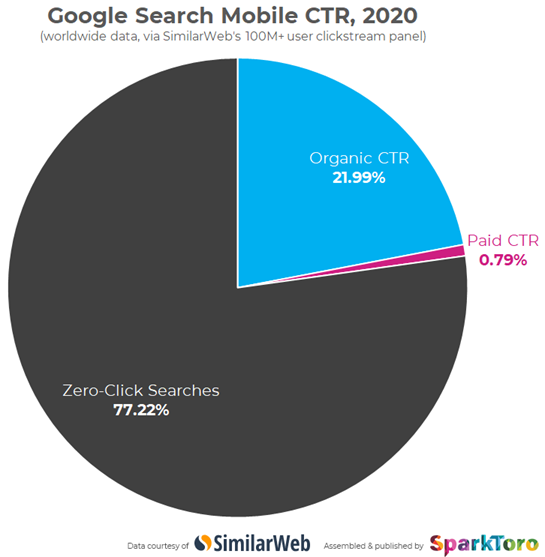 Google had to address this issue in the past, and in a g detailed all the scenarios that may end up in zero clicks:
The users don't always know what to search for, and zero clicks results may help them to reformulate their searches.
Users often search for a specific information, such as currency rates, weather reports, sports results and others – Google helps them find it, directly from the results page.
Users contact the business directly – that is, they won't necessarily visit the website, but would find the contact info on Google and communicate with the business directly. According to Google, every month local search drives more than 4 billion connections for businesses worldwide.
Searches lead directly to applications – for example, searching for a TV show would send users directly to Netflix, searching a band to Spotify or YouTube Music…
And we can go on: searching for flights would lead to Google Flights, searching for exercise to two pages of results from YouTube, and so on.
The bottom line, as long as Google dominants more niches and products, in addition to its search engine and digital advertising network, it would be harder to avoid anti-competition behaviours. Ohio may be right, but its solution is not manageable.