CBD Marketing in Google & Facebook
In recent years, you can't stop hearing about CBD and its various health benefits. CBD, or Cannabidiol, is one of the two main components of the cannabis plant (the other one is THC). CBD doesn't have an intoxicating effect; and it is commonly used to treat inflammation, reduce stress and anxiety and relief pain.
CBD is already legal in many countries worldwide. In Israel, theoretically you'll need a specific medical license to purchase CBD products. Still, beauty brands take advantage of this trend and develop CBD-enriched cosmetics products. And in the parallel universe of the internet, CBD companies are getting ready to the day after the legalization.
It means that many organic search results are already taken by those who didn't wait for the rules to change. Those who plan to wait, may soon discover not only the level of competition, but also the limitation on online advertising.
Can you advertise CDB products online?
The short answer:
Google – officially, Google bans advertising of CBD products, but there are (more or less effective) ways to bypass this ban.
Facebook – there's no official ban against CBD products, but unofficially advertising is forbidden, except for CBD topicals, and as long as the terms CBD, cannabis or marijuana will not be included in the ad's copy or the landing page.
Taboola & Outbrain – CBD advertising is allowed in countries where it is legal (currently not in Israel), under a long list of restrictions. For example, you can't advertise CBD-infused edibles or supplements, and can't use images that evoke the cannabis plant. Also, advertisers are required to disclose THC levels and make sure they meet with the target region regulations.
The long answer:
CBD Advertising on Google
Google puts CBD and its products under the Unapproved pharmaceuticals and supplements category. Though less strict than the list of Dangerous products or services, where they put cannabis, for recreational and medical use, still, advertising CBD products, or even informational content about CBD, is forbidden. Violating these policies may result in the ad disapproval and even the suspension of the account.
That is the official answer. Behind the scenes, Google started to collaborate with selected CBD companies to test CBD advertising. During this collaboration, the companies could submit ads for different Google advertising platforms, such as YouTube and the search network, under some restrictions. For example, the advertisers were discouraged form using the term CBD, and encouraged to use alternatives such as full spectrum oil. Google later denied being involved in this experiment.
There is also a breach in Google's policy, which theoretically enables advertisers to sneak in search ads for CBD products.
As mentioned before, Google forbids using explicit terms such as CBD, cannabis, marijuana, weed and other synonyms in the ads and the landing pages. But, you can still bid on these terms.
So, the process goes like this:
Build a landing page in a separated domain or alternatively cleaning the website from all the terms that might cause Google to ban the campaign.
Remove any mention of the forbidden words in the ads' copy, replace them with more obscure alternatives such as medical oil.
Bid for the relevant CBD terms.
Submit the campaign for review and hope for the best.
This process is not free of risks. Best case, it will go under the Google radar, but worst case the account can be suspended or closed permanently. Therefore, you probably shouldn't try it if you're new to advertising on Google.
Bottom line, the best and safest way to showcase your CBD business on Google is SEO. It may not be the easiest and fastest way, nor it is free, but in the long term it may very advantageous.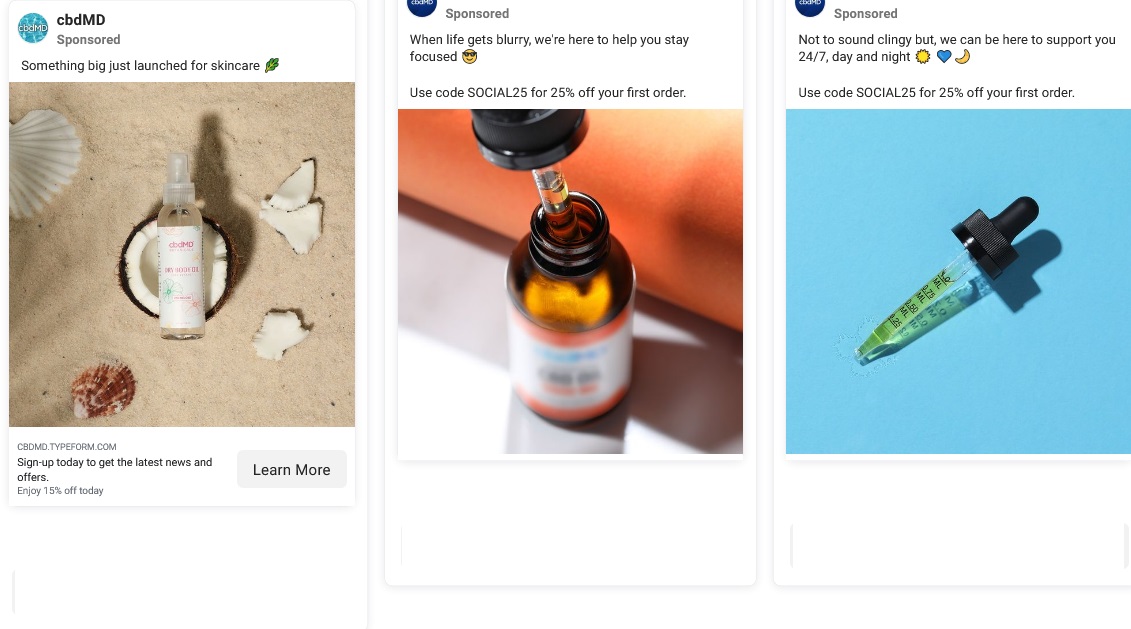 CBD advertising on Facebook and Instagram
In Facebook and Instagram, which is owned by Facebook and shares the same advertising policy, things are quite different. Officially, Facebook doesn't ban advertising CBD and hemp products, as long as the explicit terms aren't mentioned in the ad. But in fact, ads are banned constantly.
Still, there are some legit ways to advertise CBD products on Facebook & Instagram:
Focus on topicals – ads for CBD-based creams, lotions and other topicals can pass, as long as CBD isn't mentioned explicitly. Similarly, natural sleeping aids, edibles, and CBD for pets may pass.
Use a separated domain or a landing page – to advertise CBD oil or other non-topical products, you can simply direct the users to a different website, which doesn't sell or mention the products.
Advertise content instead of products – another option is to direct the ad to a blog, a review website, or an informational website. This method may be less effective if the campaign's goal is sales, but it can work well in brand awareness campaigns.
In addition, you can still advertise CBD products in more traditional ways – from SEO and organic marketing on social networks to direct advertising on CBD-friendly websites, email marketing, affiliate marketing and more. Contact us if you need help.