2020 in Digital Marketing & Predictions for 2021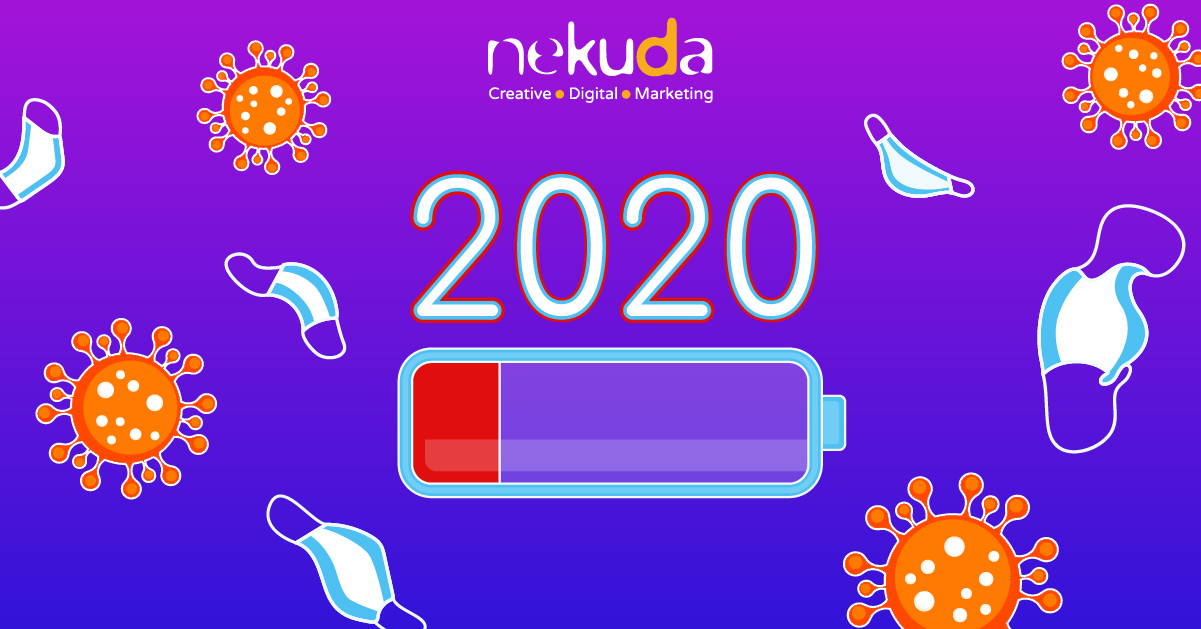 There aren't enough bad words to describe 2020. We'll let others look at the half-full glass, so without further ado – here is our summary of 2020 in digital marketing and our predictions for 2021.
2020 in Digital Marketing  
Google & Facebook against virus deniers and pro small businesses
The internet giants had to fight two fronts: conspiracy theorists and fake news spreaders, and the decline of small businesses and their media budgets.
Both Google and Facebook responded quickly to the first front, and from the first days of the pandemic, they blocked covid-19 deniers, and restricted advertising for masks, hand sanitizers and loans.
But, it took Facebook some time to admit that small to medium businesses are the company's bread and butter and to try to help them. In July, Facebook launched Business Suite, a management tool designed to help SMBs to manage their Facebook and Instagram business accounts, including the interactions with clients via Messenger and WhatsApp.
Google was more generous, and starting in April allowed businesses in the US to display their products on Google Shopping for free (meaning without paying for sponsored ads). By October, organic Google shopping was opened worldwide.
In addition, Google added different tools and features to Google My Business, allowing businesses to update their status and offerings in what became the "new normal" – from temporary closings to online services, deliveries and take-outs, and real-time crowdedness data. These changes also benefited customers, especially in places with unclear and inconsistent lockdown policies.
Google continued to rollout algorithm updates
Google rolled out two core algorithm updates: first in May and then December, at the peak of the ecommerce activity. The timing of the first update was problematic as well, especially for small businesses who were struggling to survive under lockdown restrictions and grown to depend on their organic and virtual presence. It is too early to evaluate the long-term effect of the December update, but from what we know so far, several websites have lost tons of traffic in a day (including powerful sites such as Amazon and Pinterest), while others didn't see any change. As usual, Google didn't provide any information or specific guidelines for websites that were affected by the updated. Instead, they repeated the mantra about the importance of creating quality content for users (in some variation or another).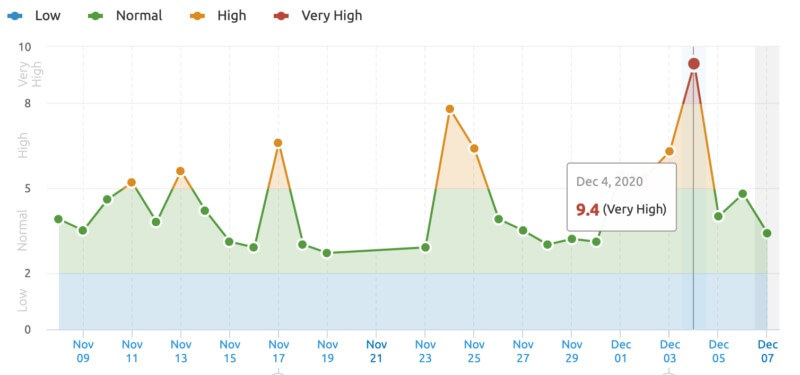 Search results volatility post-core update (SEMRush/searchengineland.com)
Google upgraded Google Analytics
In October, Google launched the latest version of its web analytics tool and gave us a peak of the future according to Google: AI-based predictions, cross-device measurements, wider integration with Google Ads, and no third-party cookies. Among other things, Google Analytics 4 can send automatic alerts about changes in users' patterns and forecast predictable outcomes. In addition, the reports look and structure were changed to reflect the users' funnel on different channels and devices.
Google started to index individual passages
Google dropped several bombs during its virtual event, Search on 2020. Among amusing inventions, such as the ability to hum a tune and ask Google to recognize it, Google introduced "passage indexing", which basically means that parts of the pages will be indexed and displayed separately in Google's search results. The goal, according to Google is to "find that needle-in-a-haystack information you're looking for". Although Google says it will affect only 7% of all search queries (in all languages), it can gives a hint on what the future of search will look like.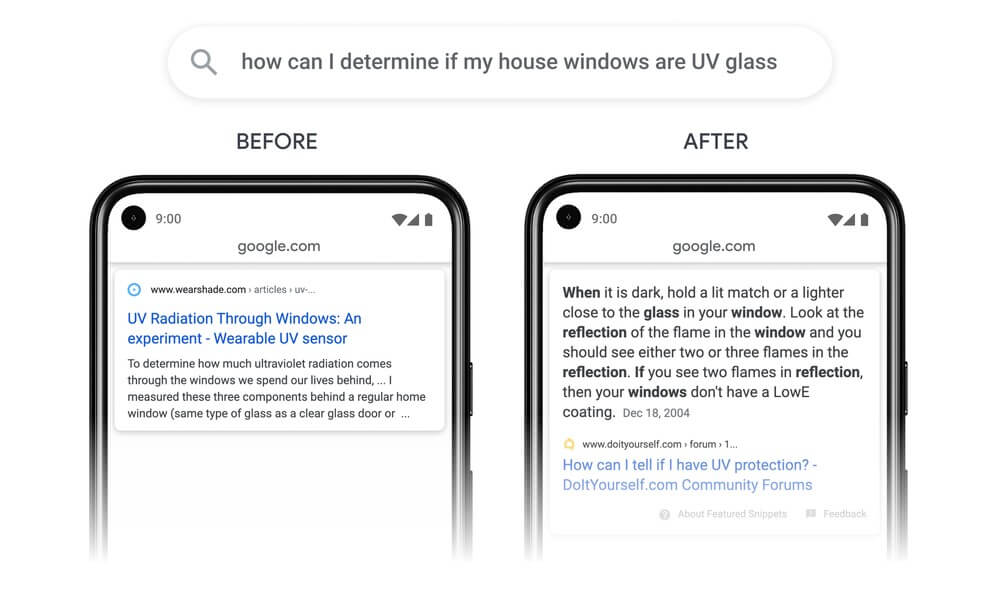 Passage-based indexing – before and after (source: blog.google)
TikTok became more popular than Facebook
Mark Zuckerberg was the first to recognize the videos are the future of Facebook. So, he was probably not surprised to learn that TikTok, the Chinese video sharing app, became more popular than Facebook. 500 million users joined TikTok in 2020 (about half of all Instagram users), and the app skipped to the top of the most downloadable apps of the year (removing the Facebook-owned WhatsApp from number one).
TikTok is especially popular among the younger generations (16-24), and as far as they are concerned, TikTok is the preferred social network, and not the other one used by their parents. TikTok success is reflected in advertising revenue: the company's owners are expected to earn 27 billion dollars from advertising in China alone. In a different time, Facebook would try to purchase TikTok, but with its antitrust lawsuits, it's not going to happen.
2021 Predictions
Robots will replace digital marketers
AI and automation tools already play a part in digital marketing: Google's Artificial Intelligence system, BERT, can understand languages better than its predecessors could, and it already messes with the search rankings. There's nothing new about writing and translating using AI programs. The only thing that changed is the quality of the work. As AI programs become smarter, their potential grows accordingly.
GPT-3, the advanced text generator developed by Open AI, can write reasonable ad copies, meta tags, product descriptions, content for landing pages, blog posts – and even lines of code and a functional search engine. It may not replace content writers and programmers yet, but it can help them complete some of the boring and automatic tasks.
Google and Facebook will appear in court
As of December 2020, in the US alone there are four lawsuits against Facebook and Alphabet (the parent company of Google), and several lawsuits in Europe (including one that demands more transparency about the search results rankings, or in other words, to reveal the ranking algorithm factors).
Without going into details, the big data companies are sued for becoming too big for their own (and the public's) good, swallowing the competition, and dominating the search and search advertising market (Google), and social networks and social media advertising (Facebook).
In the worst case, Google will have to give up its seniority in the search market and its revenue from advertising, and Facebook will be required to get rid of Instagram and WhatsApp. The ripple effect of these lawsuits may also reach Apple and Amazon, and force them to end their dominance on the App Store and ecommerce platforms (respectively). And if this scenario will come true, the future of online marketing will be changed dramatically. But, it probably won't happen in the very near future.
Apple will build a search engine that will compete with Google
Another side effect of Google's legal issues is that it's no longer the default search engine in Android devices, and won't remain one for long in Apple devices. But, as long as Google doesn't have a real competition (no offence to DuckDuckGo), these changes aren't changing Google's authority in the search market. But what will happen if Apple will get into the search market?
Last year Apple started working on what can be seen as a future search engine: posted jobs for search engineers, increased the activity of the Applebot, and even posted a support page and guidelines for webmasters about Applebot crawling, indexing and rankings. Also, the search function on Apple's latest version of its operating system, iOS14, bypasses Google and can direct users straight to the top search results.
According to rumors and speculations, Apple's future search engine will be based on Google's ranking algorithm, but it won't repeat Microsoft's mistake of adopting Google's business model. Then, instead of selling ads and users' data, Apple's search engine will offer a unique advantage: privacy. Apple already has more money than Google, a loyal audience, who is relatively better off and more willing to pay for services. It is safe to assume that some of them will be willing to pay for a subscription-based, private and ads-free search engine.
Website Speed and Mobile Friendliness will continue to be a SEO factor
Google postponed once again the final rollout of its mobile-first index to March 2021. It means that websites that still show partial content for mobile users have less than three months to get their act together. Not to mention websites that aren't mobile friendly yet (about 23% according to a survey from 2018).

canonicalized.com/mobile-friendly-study
Additionally, Google plans to roll out the Page Experience update on May 2021. This update will not only change the search engine rankings, but their visibility: Google plans to add a visual signal, which will highlight websites that meet Google's Page Experience standards and humiliate the others. These standards include page speed and other factors that can found on Google Search Console's Web Core Vitals report, and other factors such as mobile friendliness, safety, and more.
Google will have more Zero Clicks Results
A year ago from today, Google search results for "corona" were pretty standard: about 10 links and maybe a knowledge graph for the beer brand. But now, there's not a single mention of beer, and hardly any reason to click on the results. All the information – from stats to symptoms, tips and even some covid-related celebrity gossip – can be found and summarized on Google.
We've seen it before: Google has been taking over the search results, displaying more detailed information and snatching the traffic from the websites that published the content. Here, Google and WHO may have a mutual interest, as they both wanted to highlight scientific information and push down conspiracy theories and fake news (which often dominant other controversial search queries, such as abortions, or holocaust, for example).  Google will probably continue to display zero clicks results. But, the websites' consent may change.
There are some precedents: the lyrics website, Genius, sued Google for this reason and lost. But, news publishers, which were losing both traffic and advertisers for Google, has won. Since October, many news publishers from around the world are being paid by Google for creating and curating quality content for Google News Showcase.
This deal may not affect small websites, which remain dependent on Google for exposure and traffic, especially nowadays. But with the upcoming lawsuit, we may live to see Google giving in more often (or not).