SEO Tips for Small Business, Google & Facebook Redesign
A summary of news and articles published on our Hebrew internet marketing blog on March 2014 including small business SEO tips, Facebook pages redesign, Google search results redesign and Pinterest advertising.
Tips for Small Business SEO
SEO is one of the most important aspects in the marketing strategy of small businesses. Using some simple steps, including on-page SEO, local directory submission and blogging, a business can improve its search engine visibility and at the same time support its presence in social media, review sites and off-line.
Full post: Small & Local Business SEO
Facebook Business Page Update, the End of Facebook Organic Reach
Facebook announced updating the layout for brand pages, removing the two-column design with a single-column flow, similar to the personal profiles' layout. In addition, a new report by social@Ogilvy indicates a continuous decline in the organic reach of Facebook page posts and predicts the demise of Facebook organic marketing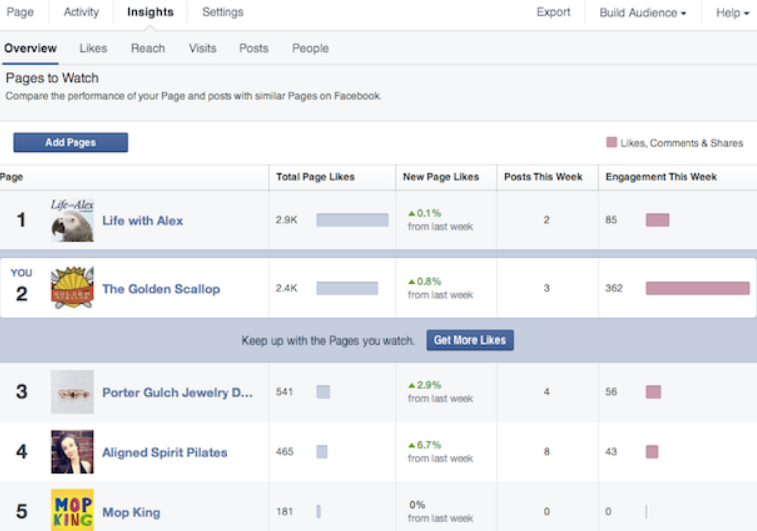 Full post: Facebook Marketing News
App Content Search using Google Search Engine
Google may be the leading search engine in mobile devices, but most mobile users consume their content via applications and use search engines less often. According to Search Engine Land, Google are trying to deal with this challenge by indexing application based content, including deep links (currently, only from Android devices).
Full post: Google to index Mobile App Content
Google removes Underlined Links
Google announced changing the search results and removing the underline mark for links, the last characteristic remained from the search engine's early days. In addition, Google increased the titles' font size and added "Ad" tags to paid search results
Full post: Google Search Results Redesign
Google Redesign Effect on SEO
Google's search results redesign is not just cosmetic but it also affects SEO; by increasing the title's font size the titles got shorter and titles optimized for 70 characters are now cut, what can lower CTR and affect SEO efforts negatively. This topic was reviewed by Search Engine Watch and Moz.
Full post: SEO Titles following Google Redesign
Promoted Pins coming to Pinterest
Pinterest will offer its advertising product Promoted Pins to wider audiences of brands and advertisers starting next month, according to Marketing Land and Wall Street Journal. Promoted Pins will be available on the website and mobile app and apparently the payment models will be CPM and CPC.
Full post: Pinterest Advertising is coming Soon
Is Google Pushing Paid Results on New Redesign?
When Google announced redesigning the search results they spoke about readability and consistency. eyequant suggests Google had better reasons for redesigning the paid search results and that the new design draws users' intention to the top paid results in a clever and sophisticated way, without irritating the users or betraying their "Don't be evil" motto.
Full post: Google Adwords New Design
Facebook answers Questions about Brand Pages Redesign
Facebook recently announced updating business pages design, cancelling the two-column layout and merging to one. Following page owners and Facebook marketers responses, Facebook posted answers to some of the most frequently asked questions, including the left column layout, applications and tabs and the new marketing tool Pages to Watch.
Full post: Facebook Pages Redesign Q&A
5 Tips for a better Quality Score & Facebook Marketing News
A summary of news and guide published on our Hebrew internet marketing blog on February 2014 including Facebook 2013 Q4 revenue, Facebook Paper application and 10th anniversary, Nielsen social media report, tips for a higher Adwords Quality Score and Google Places guidelines.
Facebook 2013 Q4 Revenue & Newsfeed Ads Relevancy
Facebook released their Q4 revenue and usage data. At the same time, Mark Zuckerberg talked about his plans to reinforce Facebook advertising so that news feed ads would be as relevant as the users' friends posts and photos.
Full post: Facebook Advertising in 2013 Q4
Facebook Anniversary and the Paper Application
Facebook is celebrating its ten years anniversary with the launch of the new iPhone application Paper, and we recall Facebook previous inventions, acquisitions and radical interface changes from the past decade.
Full post: 10 Years of Facebook
Nielsen Report on Social Media and Mobile Usage
Nielsen published The US Digital Consumer Report, which focuses on the recent technology changes, especially multiple digital devices, about the daily and consuming habits of American adults. The report reviews a wide variety of areas and fields including mobile and smartphone usage, video streaming and social media.
Full post: Smartphones vs. Computers Internet Time
How to improve Google Adwords Quality Score
PPC and SEO are often completely separated fields, managed by different people. However, some in-house SEO factors can improve the PPC campaigns Quality Score, raise ad score and increase the ROI.
Full post in English is available on Conversioner blog, where it was published as a guest post:
5 Tips for better PPC Quality Score
Google Places for Business Titles Guidelines
Google added a few clarifications for Google Places for Business quality guidelines, focusing mainly on local businesses titles. In short, Google allows adding one descriptor to the business title, as long as it describes the business location or its services.
Full post: Google Places updates Quality Guidelines
Facebook Newsfeed updates makes Tagging a Marketing Tool
Facebook announced a Newsfeed update, which will allow brands and marketers to use the tagging feature to expand their reach and to display their posts on non-followers. In other words, when an entity such as a brand or a person is tagged on a Facebook page, it will be displayed on the Newsfeed of the brand or person followers.
Full post: Facebook Marketing using Tagging
Facebook Marketing Trends, SMX Israel and Search Marketing News from January 2014
A summary of news and articles published on our Hebrew internet marketing blog on January 2014: Google's guide to mobile SEO, Twitter new advertising tools, Facebook marketing news, trends and stats and the best of SMX Israel 2014.
Mobile Site Optimization according to Google
Google produced a series of instructional videos about mobile site optimization. This video focuses on optimizing the main tasks for smartphone users and improving their user experience using tools such as Google Webmaster Tools and Google Analytics.
Full post: Mobile Optimization using Google Webmaster Tools & Analytics
Twitter Advertising: New Tools for Mobile
Twitter updated its advertising system, and it now includes several new tools designed to improve advertisers' targeting and tracking, and, obviously, to increase the company's revenue. Twitter Advertising currently offers tailored audiences tool, which allows advertisers to use cookies to display targeted ads to site's visitors, track conversions on Twitter and display sponsored accounts on mobile users' timeline.
Full Post: Twitter New Advertising Tools
Facebook Advertising and Organic Marketing
Facebook marketing arena has changed significantly in the previous year and many marketers have increased their Facebook advertising budget in 2013. However, organic marketing on Facebook is still relevant as the social network remains a communication platform between brands and customers.
Full Post: Facebook Marketing: Organic vs. Paid
Facebook the Most Popular Social Network and Other Stats
PEW Research Center released a social media report for 2013. The survey included 1,445 18+ internet users and focused on five social networks: Facebook, Twitter, LinkedIn, Pinterest and Instagram. The results show that Facebook is still the most popular social network with the highest engagement rates.
Full Post: 2013 Social Media Report
Improved Search Queries Report on Google Webmaster Tools
Google announced two major changes at the Webmaster Tools report: a display of search queries of mobile sites with separate URL and a display of accurate statistical data of search queries, impressions and clicks.
Full Post: Google improves WMT Search Queries Report
Google released a WordPress Plugin
Google released a first official plugin for the blogging platform WordPress. Google WordPress Plugin, currently in a beta version, supports only two Google products: Google Adsense and Webmaster Tools.
Full Post: Google's Official WordPress Plugin
Facebook Advertising & Marketing in 2014
Facebook marketing is usually influenced by trends, and it makes sense to assume that the tactics and strategies that worked last year will be efficient this year too. We review 12 trends in Facebook marketing, advertising and targeting for 2014.
Full Post: 12 Facebook Marketing Trends
The Best of SMX Israel 2014
The best PPC, social media marketing, content marketing, link building and mobile SEO tips and ideas learned from SMX Israel, the search engine marketing convention held on January 26, 2014 in Jerusalem.
Full Post (English): SMX Israel 2014 – Top Tips
Retargeting and Call to Action Buttons on Facebook Ads
Facebook launched two new tools for advertisers: the Custom Audiences tool was updated, and it now allows Facebook advertisers to display targeted Facebook ads to users who visited the website or application, and some of Facebook Page post ads will also include direct calls to action such as Shop Now, Learn More, Sign Up, Book Now and Download.
Full Post: New Facebook Advertising Tools
The Best of SMX Israel 2014
As in recent years, we attended SMX Israel, the leading search marketing expo. Although the conference was opened with a keynote about the latest changes in the search marketing field, throughout the day we kept hearing that "content is king", followed by some topic-related hesitation.
Content is now consumed in different ways (from smartphones and tablets to Google Glass), and the definition of the term content has expanded: no more keyword-specific articles, but also visual content (images, video, infographics), but whether you want to promote a brand on social networks or to adjust your marketing strategy to the 100% not provided keywords on Google Analytics report, according to SMX Israel 2014, if you want to success in internet marketing, you should invest (time, money, thought) in your content strategy. Here are some more specific issues discussed in SMX Israel 2014:
Search Engine Advertising
 Do's:
Adjust your campaigns and keywords to the various devices (computers, tablets and smartphones)
Use Google Adwords advanced advertising tools including Google+, images, reviews and Enhanced Campaigns.
Adjust your budget allocation and measurement tools to the multi-channel marketing environment (organic search, display advertising, social media, affiliates, etc). More details on Search & Display Advertising
Adjust the bidding strategy (manual or automatic) to the campaign, product and audience. More details on PPC Tips & Techniques.
Social Media Marketing
Do's:
Thank users for sharing, commenting, retweeting and other engagement means.
Use images and visual content.
Dont's:
Don't neglect Twitter and Google+
Don't create automatic content for social networks
Don't give up on organic marketing on Facebook – users prefer to consume non-advertising content. See more tips for marketing on Facebook, Twitter & Google Plus.
Content Marketing
Do's:
Create funny, useful, relevant and quality content
Distribute the content on Facebook, organic and paid
Fix low quality content pages, including automated and keyword-dense content
Assimilate tools for easy content sharing and spreading. Read more Content Strategy and Content Sharing tools and tips.
Dont's:
Don't create bad content, based on keywords.
Link Building and Removing
Do's:
Earn links and build relationships (especially with journalists, BuzzFeed employees and influencers).
Buy impressions (for example, on the "recommended posts" spot).
Remove harmful incoming links as much as possible
If needed, contact Google with a documented, polite, reliable and honest reconsideration request. (More tips and ways to Recover from Google Penalties).
Dont's:
Mobile SEO
Do's:
Use basic SEO factors for application optimization including on-site SEO (keywords in titles and descriptions) and off-site SEO (video optimization, social media, reviews). More tips on App Store Optimization.
Adjust mobile websites to different devices (smartphones, tablets and feature phones).
Dont's:
Don't add extra slides and ads that slower downloading
Don't abandon desktop users. See more Mobile SEO Techniques.
More SMX Israel 2014 Sessions:
A summary of the ORM panel, focusing on branding and reputation management in search results and social media.
Traditionally, the only SMX Israel session in Hebrew, where local SEO experts share their experience in Hebrew SEO.
A session about the new king of content – video, including paid and organic marketing techniques and conversion optimization of videos.
Advanced SEO tips, tried and tests by SEO experts, including the ranking secrets of big sites with millions of pages.
Tips and ideas for search marketers following the recent changes in Google search results (Knowledge Graph, Hummingbird algorithm).
Alternatives to Google Analytics' organic keyword report or an opportunity to change the keyword-focused approach of SEO?
A futuristic session about Google and Apple predictive search tools and how search marketers can adjust their strategy by now.
Discussing Google new web analytics tool and how it can improve conversion measuring on-site, off-site and even off-line.
Internet Marketing News November: Facebook Q3 Revenue, Google Hummingbird & CRO
Search marketing news, articles and guide published on our Hebrew internet marketing blog on November 2013 including Facebook mobile advertising revenue, keyword research and social media marketing in the post Google Hummingbird era and optimization for tablets.
Facebook Q3 Revenue
Facebook earned more than 2 billion dollars on 2013 Q3, making it the most profitable quarter in the social network history. 1.8 billion dollar of Facebook revenue was from advertising – a growth of 66% from 2012 Q3. About half of the advertising revenue was from mobile devices – a growth of 41% from 2013 Q2.
Full post: Facebook Revenue from Mobile Advertising Grows
Keyword Research & Content after Google Hummingbird
Google's new Hummingbird algorithm is alive for some time, but search marketers are still not sure how it will change SEO. The main debate is about the effectiveness of keyword research and content creation in the post-Hummingbird, especially since the organic keyword data is disappearing from the analytics report.
Full post: Hummingbird and Keywords
Tools and Methods for Conversion Optimization
Conversion optimization or conversion rate optimization (CRO) refer to all the marketing, research and analysis done to improve the number of converting visitors to the site, visitors who purchase items, download an application, sign up to a newsletter, etc. Conversion Optimization basically focuses on identifying the obstacles for conversion and removing them.
Full post: Conversion Rate Optimization Guide
Hummingbird, Social Signals & Links
The SEO industry is still trying to predict the influence of Google Hummingbird on search marketing. According to an interesting assumption published on Search Engine Land Google's new search algorithm would change the way social signals effect search engine rankings.
Full post: Algorithm Hummingbird & SMO
Social Media Statistics & Online Marketing Strategy
Social media managers can improve their marketing strategy by following demographic data and behavior statistics published by the different social networks. Fast Company published some statistical data about Facebook, Linkedin, YouTube and other social sites which can assist your social media marketing campaigns.
Full post: Social Media Marketing using Statistics
Tablet Optimization
Mobile SEO usually refers to both smartphone and table optimization, but statistics show significant differences between users' behavior in different mobile devices. Tablets users usually search the internet from home, often while watching the TV. Another data worth mentioning is that by 2015 tablet usage is expected to go over desktops and laptops.
Full post: Tablet-friendly Websites Optimization
Internet Solutions:
Web and Search Engine Marketing Solutions
Search Results Optimization (Paid and Organic)
Brand Management and Reputation Monitoring
Social Media Marketing, including SMO
Marketing Process Management and Assimilation
Target Oriented Marketing (Conversion)
Competition Research and Analysis
Social Media