Guide to Digital Marketing for Plastic Surgeons
Plastic surgeries and aesthetic procedures are more common than ever. The number of people who are interested in plastic surgeries is growing, but so is the competition. Additionally pre-digital marketing methods may be less efficient nowadays. In this article we will discuss the most important digital marketing channels for plastic surgeons.
Branding: maintain the clinic's reputation
Maintaining a positive reputation for plastic surgeons has always been important; but now it is even more important, since your potential patients can easily google your name and find negative information, from bad reviews of unsatisfied patients to lawsuits.
Tips for online reputation management:
Maintain digital assets with your names (website, social media profiles, a Wikipedia page, etc.)
Track mentions of your name, your clinic and other doctors in social networks and review sites. That way, it will be easier to handle negative reviews before they become viral.
Website: your most important digital asset
Your official website is your most important asset; as your online display window the website should look professional, highlight your experience, abilities as well as your human side. The website should also approach the different types of visitors: those who have already decided on having a plastic surgery and started looking for the best surgeon for this task, and those who look for information about the different treatments. If your potential patients will not find the requested information in your website, they are most likely to move on to the competitors' site.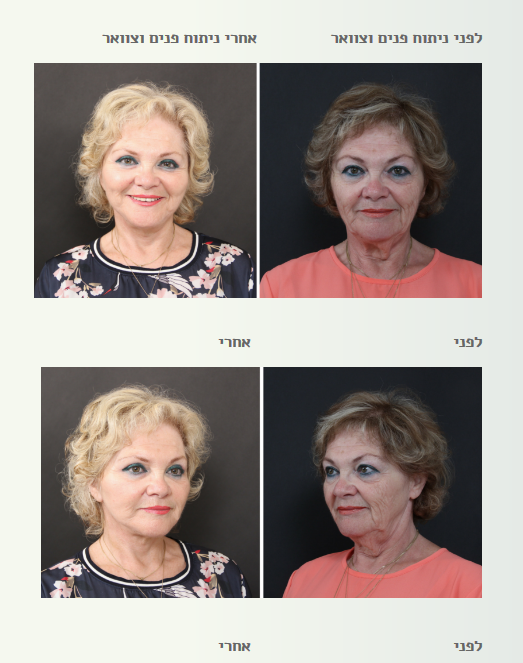 Anatomy of a plastic surgeon's website
Detailed information about all the available procedures in your clinic, including the potential risks and complications, recovery time and more.
An "About" page with information about your professional background and education. You can also include images of diplomas and certificates and links to interviews and press mentions.
Testimonials and thank you letters.
Before and after photographs.
A blog or an articles section.
Why do plastic surgeons need a blog?
By adding a blog you can brand yourself as an authority in the field of beauty, aesthetics and plastic procedures.
Communicate with potential patients and offer them interesting content.
"Educate" patients about the different procedures.
Increase the website traffic.
Content ideas for plastic surgeons' blogs:
Comprehensive information about aesthetic procedures and plastic surgeries.
Information about new procedures, technologies and trends from the beauty and plastic surgery industry.
Updates about new certifications, participation in professionals conferences and events.
"Behind the scenes" look at the clinic.
Case studies and personal stories of your patients.
Search Engine Marketing: SEO & PPC
Whether your potential patients are googling your name or the procedures you offer, you want to be on the top search engine results in order to be found.
SEO is a marketing channel that involves different activities for the purpose of improving the website's rankings on Google's organic search results, and by that – increase the website's traffic, leads and sales.
Since SEO is a long-term strategy and its results may take few months to show, for quicker results you can consider using Google Adwords and advertise the website on Google's paid search results.
Social Media Marketing for Plastic Surgeons
Social websites are a great platform to create awareness for your brand and interact with your patients. With a smart social media marketing strategy that involves targeted marketing and remarketing on the main social networks would help you increase your target audience and convert your potential clients into leads.
How to communicate with your customers using social media?
Offer a bonus or a discount to motivate users to contact you
Add clickable posts and directs users to extended information on your website
Include posts that offer answers to most commonly asked questions among potential patients.
Create quizzes, polls and competitions.
Reviews
When potential patients look for you online they can easily be discouraged by reading negative reviews, and the other way around: positive, reliable reviews written by real patients would encourage potential patients to contact you.
How to encourage patients to write reviews about your clinic?
Simply ask patients to visit your Facebook page, rank it and leave (hopefully a positive) review.
Thank your patients for the positive reviews in prompt time.
Highlight the best reviews and share them on your Facebook page or website.
How to handle negative reviews?
As a rule, reply to negative reviews as soon as possible. If you'll postpone your response, the negative review can spread and damage your reputation. If the negative review is general, reply publicly, apologize about the unpleasant experience and detail the efforts you plan to make to fix this issue. But if the review is personal and specific, such as a complaint about a failed procedure or dissatisfying results, consider contacting the person. At any case, never delete a negative review.
To summarize, the World Wide Web is a great platform for plastic surgeons. Despite the competition, if you would use the online resources wisely you can create awareness to your brand, increase the website's traffic and gain leads who will convert into satisfied customers.
Want to learn more about digital marketing for plastic surgeons? At nekuda Web Solutions we specialize in building, maintaining and marketing digital assets for plastic surgeons and businesses from the beauty industries. Contact us for more details.