How to increase Facebook group organic reach?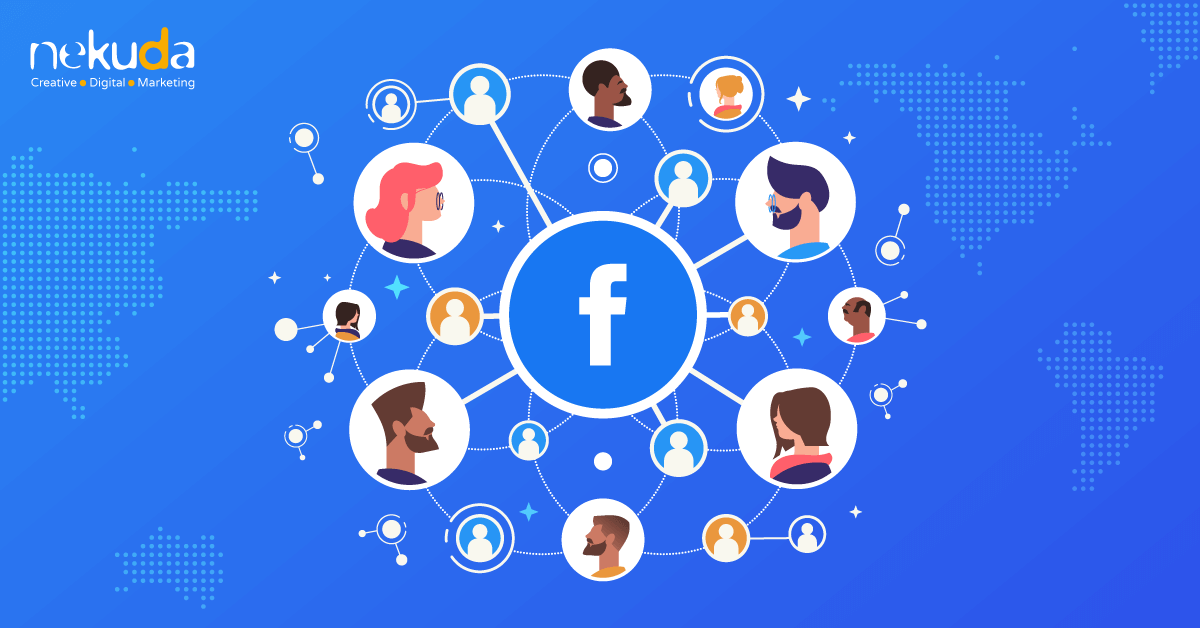 Since the beginning of times, people always wanted to belong to a community, and the sense of belonging was an essential part of our social identity. But, if in the past communities had geographic or functional definitions, globalization removed these boundaries, and the term "community" became virtual and undefined by time and place.
Facebook's alternative is groups (or communities). Each Facebook group has its own name, characteristics, set of rules and members. As of 2020, Facebook has more than 10 million groups. Although Facebook groups (and the entire social network) started out as a casual pastime, in time they became a profitable marketing tool. Many companies now maintain groups, in addition to the official business page, and prove that Facebook group marketing is a great way for brand awareness and customers' outreach, without spending any money on advertising.
Another reason for the growing use in groups as a marketing tool is Facebook's algorithm change from early 2018. This change led users to receive more updates from friends, family and groups, and decreased significantly the organic reach of business and brands pages. As a result, businesses had to find creative ways to engage with their audience, and started creating groups and communities.
There are two types of Facebook groups for marketing purposes:
Brand groups
A Facebook group opened by a company, which focuses on the brand and its products. In this type of groups, the community consists of customers, who interact with the brand, get updates, professional advice and guidance from the company's staff.
For example, the Facebook group of Peloton, the sports equipment brand that owns Peloton Bike, is managing a successful closed group. According to the community's vice president, the number of group members grew from 1,300 to more than 116,000 in just 3 years.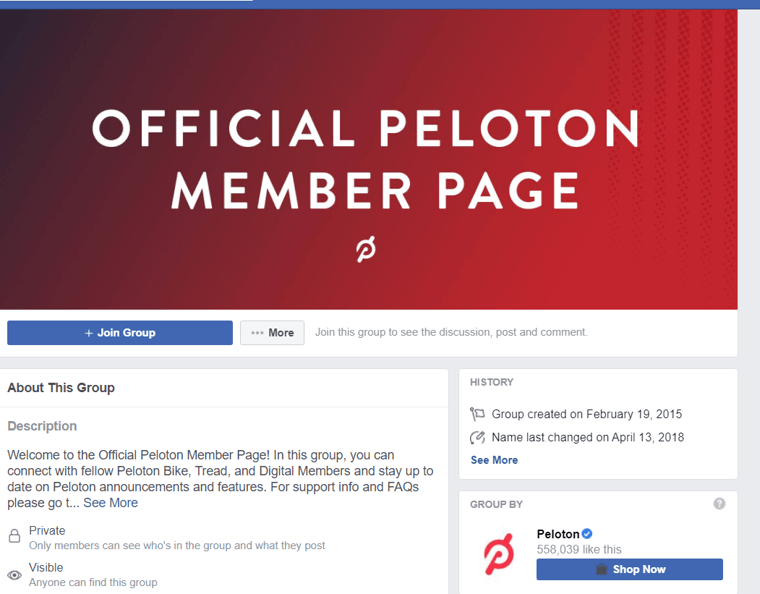 Indirect marketing groups
In this somehow sneaky method, a company opens an unofficial group focused on a relevant topic to its industry. The main goal is to display the company's authority in its field by sharing information, opening discussions and answering questions, and occasionally even directing members to company's website. In most cases, the group members won't even know that it was opened for marketing purposes.
In both cases, Facebook groups can support your marketing plan and achieve the following goals:
Higher engagement rate
Added value to your customers and followers
A sense of community and belonging to an exclusive club
An incubator for new ideas and inspiration
Increased organic reach on Facebook – a win-win situation J
A Facebook group can be very beneficial for your business, but it also requires a lot of work and creativity. You will be responsible for managing the group, increasing the number of members and creating interesting and valuable content.
Your first challenge will be to increase the number of group members. For this purpose, Facebook advertising options are limited. Not so long ago, Facebook offered an engagement campaign for groups, but this option is no longer available. And even if you'll try to bypass it, Facebook prohibits internal links to the facebook.com domain.
Another option is by creating a standard ad campaign and link to the group from the text above the image. But, it's not an ideal option as most users click the image or the call to action button, and often ignore the text above it.
Here are a few organic ways to increase the number of the Facebook group
Optimize the group's name and description for search
Choosing the Facebook group name is the first step in optimizing it for internal search. We recommend choosing a descriptive and keyword-rich name, which will help potential members to understand its content and purpose. The same logic applies for the group's description, which should also include relevant keywords. If you've already opened a group that doesn't meet these recommendations, you can always revise its name and description.
Rewrite the group's URL address
The default URL for Facebook groups is something like that:  https://www.facebook.com/groups/5238523879. But as the group grows bigger and more members join in, you should replace it with a more catchy and memorable URL, such as facebook.com/groups/yourgroupname.
To edit the URL address, click the three dots icon on the right to open the menu. In the menu, click Edit Group Settings, then choose URL address, and replace with a textual and descriptive name, such as an abbreviation of the group's name.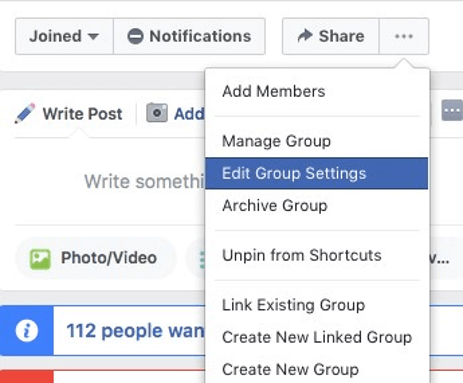 Link the group to your Facebook's business page
If your company has an official business page, you can link in to the group in two simple steps:
Click "Groups" in the business page's side bar (and if you don't have any, you'll need to add it by following Facebook guidelines).
Click "Link your Group" and choose your group. At this point, you can also choose to change the call to action button in the business page to "Visit Group".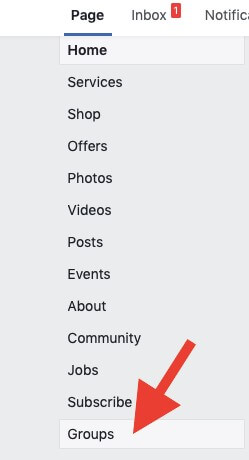 Invite people to join your group
Don't hesitate to invite your target audience to your group – you might even be surprised by the response rate. You can integrate the invitation in various creative ways. For example, you can use the company's email newsletter to share information about the group. Another option is to add a group invitation in the website's thank-you page, which follows a product purchase or a submission, and invite the customers to stay in touch and join the group. You can also add a link to your Facebook page in the website's error page (404 page) or the navigation bar.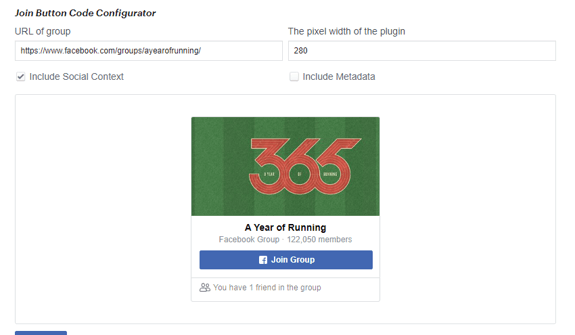 Add Facebook's "Join Group" plugin to your website and email signature
Facebook's plugin for groups allows you to create a "Join Group" for your website or email signature. To learn how to implement the plugin, check out Facebook's guide.
Button line, between the website's navigation bar, email plugin, the call to action in the thank you and error pages, your website's visitors will most likely get the invitation and join the group!
So, let's move on the second challenge – how to constantly create an engaging content? Here are some tips that will help you in this area.
7 tips for highly engaging content
Upload content regularly
This is a basic and essential rule in Facebook groups marketing. Groups demand frequent discussions and interactions, more often than a Facebook business page. To gain the members' trust and participation, it's important to maintain consistency and have the manager to moderate the content.
Start by preparing a weekly content plan with different discussion topics, and use it until the group will develop a life of its own. Of course, the plan should be flexible and open to changes. In addition, remember to visit the group at least once a day to comment, answer questions, get updates and make your presence felt.
Use images and videos
It may be a cliché, but a true one – image can say much more than words. Moreover, according to a research by KISSmetrics, images get 53% more likes, 10% more comments and 84% more clicks comparing to texts without images. The research also showed that videos are also crucial for engagement, and that posts with videos make 93% of the most interesting content on Facebook. So, if you have something to say, use an image or video to illustrate it in the best possible way.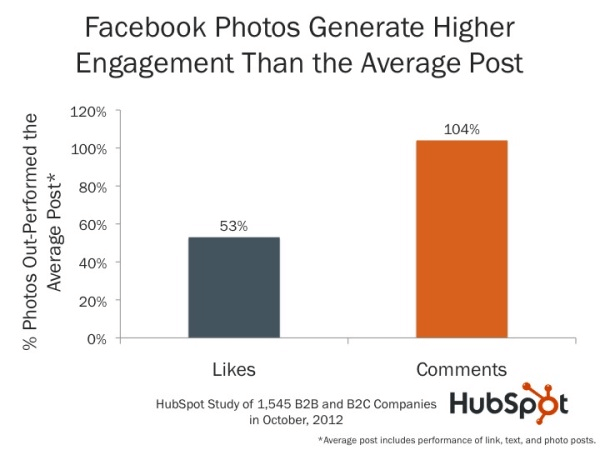 Display "success stories"
If you get positive reviews and testimonials from your customers, share these stories on your Facebook group (of course, after getting the customers' approval). According to many Facebook group manager, success stories are especially loved by visitors and tend to have high engagement rate.
Let your users judge
When relevant, share your ideas and plans with your group members. For example, if you are a fashion designer who is currently working on a new collection, you can upload sketches or color palette and ask the members for their opinions or preferred colors. This winning trick can achieve several goals: high engagement, lively debate and a sense of belonging of the community. Also, you will be able to peek inside your customers' brain, and who knows, maybe you'll get new ideas!
Ask questions and open discussions
One of the easiest ways to encourage engagements is by asking an open question (of course, in relation to the group's content). For example, if you own a yoga studio, ask the community about their favorite yoga poses or morning sequence. The answers will lead to debates and interactions between the group's members.
Share updates and breaking news from your industry
Even the most dedicated customers will be happy to learn new information on other things rather than your product. Share updates about news, innovations and interesting events in your industry and make the group a source of information.
Use Facebook's Analytics
Opening and maintaining groups is a shared interest for both you and Facebook. That's why Facebook invests in tools such as Group Insights, an analytics tool to collect data about the group members. By using the tool you can get information about the number of active members, engagement rates, most popular posts, most active days and hours, etc. This data will help you learn when and how your audience react to the content, and you can use this knowledge and conclusions in your future content plan.
To summarize, Facebook groups are an important marketing tool for almost every business. Facebook groups help interact with customers on a personal level, create trust and sense of belonging between the community and the brand. This will help you better understand the target audience, improve brand awareness, increase customers and strengthen brand relationships. Maintaining a successful Facebook group requires time and effort, but we hope that we've helped you with two of the main challenges. Good luck!