How to Use Facebook Groups for Business Marketing?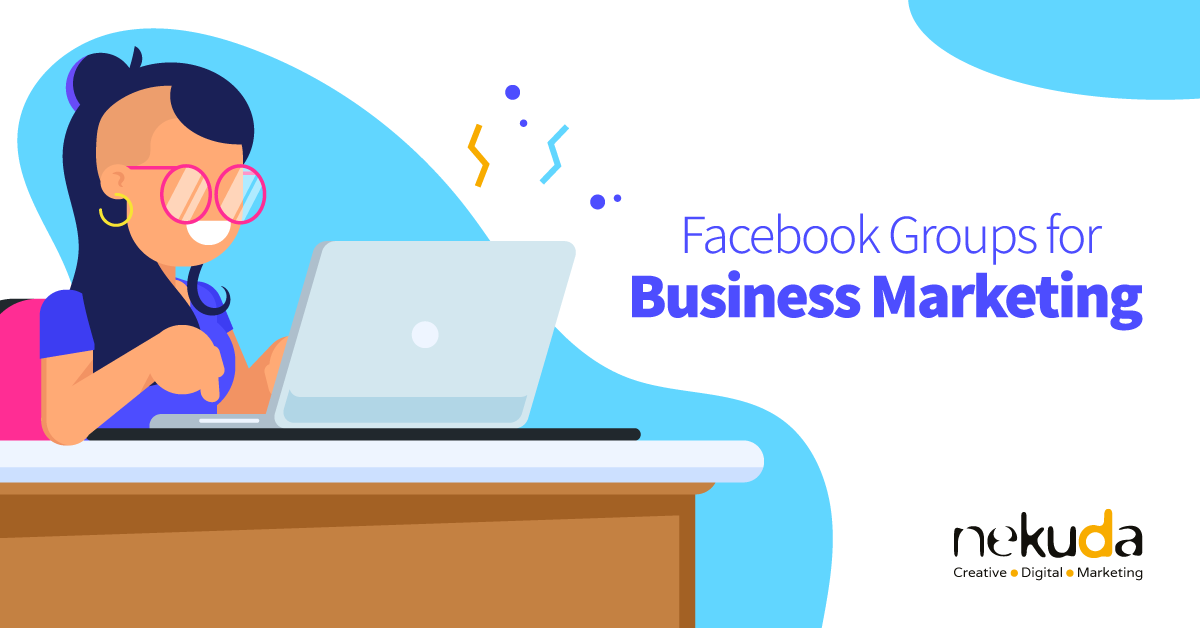 It seems like whenever we scroll down our Facebook feed, all we see is posts by groups. Sometimes, we're not even sure we signed up to be members of those groups, but we did. It happens because Facebook's newsfeed update, designed to encourage communications between friends and family members. It seems like Facebook wanted to affect the organic results and activity on Facebook and tried to change the way we use Facebook advertising.  But we, Facebook marketers, know how to deal with the change and to think of great advertising strategies. Our tip for you is to start using Facebook groups, but don't leave promotion behind.
What's the idea of Facebook groups?
Facebook groups are the ideal place to start conversations with people that have the same interests like you do (or like your audiences do).
How brands can use Facebook groups?
Brand can use groups to achieve a few goals:
To improve interaction with audience
To create a community around a specific subject
To promote content
To increase subscribers
How to promote your product or services via Facebook groups?
Using Facebook groups, you can find a very specific audience that is consisted of group of people who look for answers to their questions. If you are the right person to answer them regularly, then you and your business can become an authority, which means that group members will keep searching answers from you or your page. People would even start tagging you when they bump into posts that ask for professional answers.
Another advantage is that you can gather questions from groups and create an interesting content from them in order to draw more potential customers to your page. Keep in mind that Facebook users can join up to 6,000 groups, so you definitely want to be there!
How to find Facebook groups easily?
Go into your personal account and click "find groups" on the left side of the home page, under the "Explore" category. Once you clicked the "Groups" tab you will be automatically sent to search Facebook groups. Facebook will suggest you different groups, and you'll be able to see who of your friends is a group member. Don't forget to read the group's description and rules and to check if it's an open or closed group before you join it. Some of the groups will ask you a few questions before joining.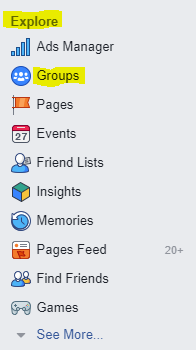 After joining the group, take some time to read throughout the posts there; see how the members react, who's involved and active and what the most popular topics are.
Why should you open your own group on Facebook?
Before creating your own group, there are few things you need to ask yourself:
Who's your audience? Check if owning a group could improve your relationship with your targeted audience.
What is the group's goal? What are you trying to achieve?
Who will maintain the group activity? If you don't have time, put a person you trust in charge to answer all comments and questions.
What are your group's rules? Set up rules in order to prevent issues with unpredicted posts (you can do it by posting a first post and pin it to the top of the page).
How to make the conversation flow? Make a strategy to keep the group always active.
When you are a group member, you have to play by the admins' rules. Managing your own group lets you be in control and use the group for your own benefit. Before you start, you have to decide why and how to use your group:
1. Creating a community around a product:
Many groups are created as a bonus for people who buy their brands' services or products. Creating a community around something you sell makes the group members feel exclusive. The idea is creating a community that talks about your brand and by doing that, add there more members and potential customers.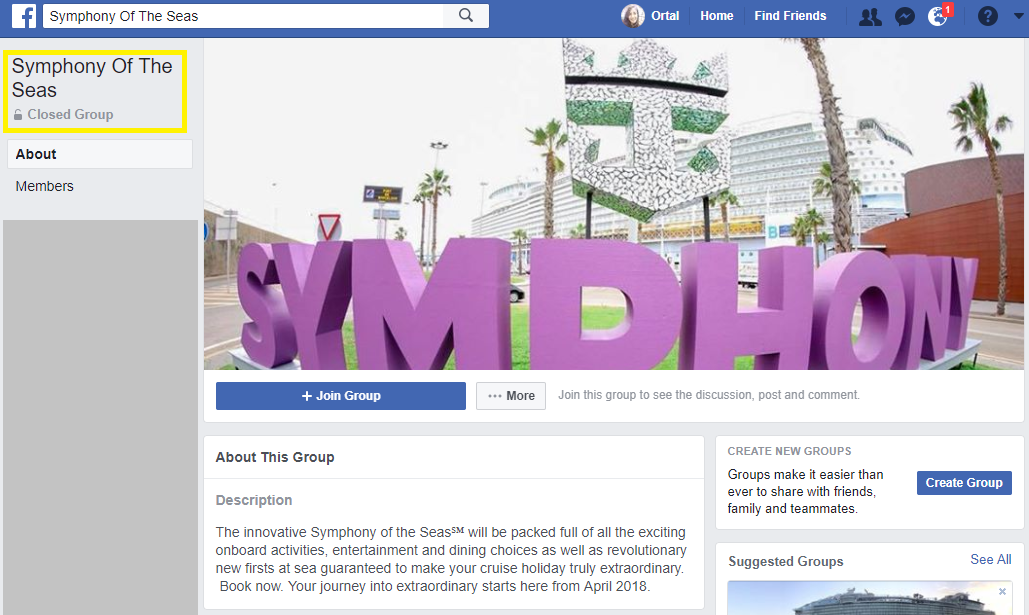 Symphony of the Seas group by Royal Caribbean – in this group the members are able to see the different activities on the ship, entertainment schedule and more benefits for those who get the closest deal.
2. Creating an audience around a subject:  
Instead of using your brand's name as the name of the group, give it a name that describes the main topic you profess, for example, "Social media for fashion brands". This way you can bring people that are interested in the same topic.
Once you've decided how to use your group, you can start building it.
First step: open a Facebook group for businesses, click on "create group", then name it, add members to it and choose a privacy option:
Open group – anyone can join and watch the posts. Here you have to try and prevent people from posting inappropriate or irrelevant content.
Closed group – anyone can ask to join but only group admins can approve. If a person isn't a member, he/she won't be able to see the group posts. This is the best type of a group for businesses.
Secret group – Only members can see the posts and other people will not be able to find the group on search results. This type of groups can work with a very specific community, and it usually talks about a specific and exclusive service that the company provides.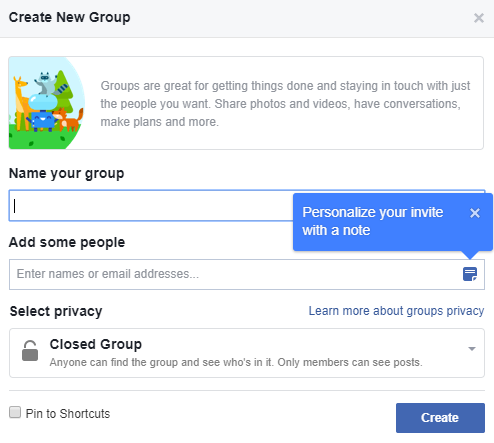 Second step – customize your group, add cover photo, group description and rules. Then, click on the three dots button to add a type of group, tags, place, website and email.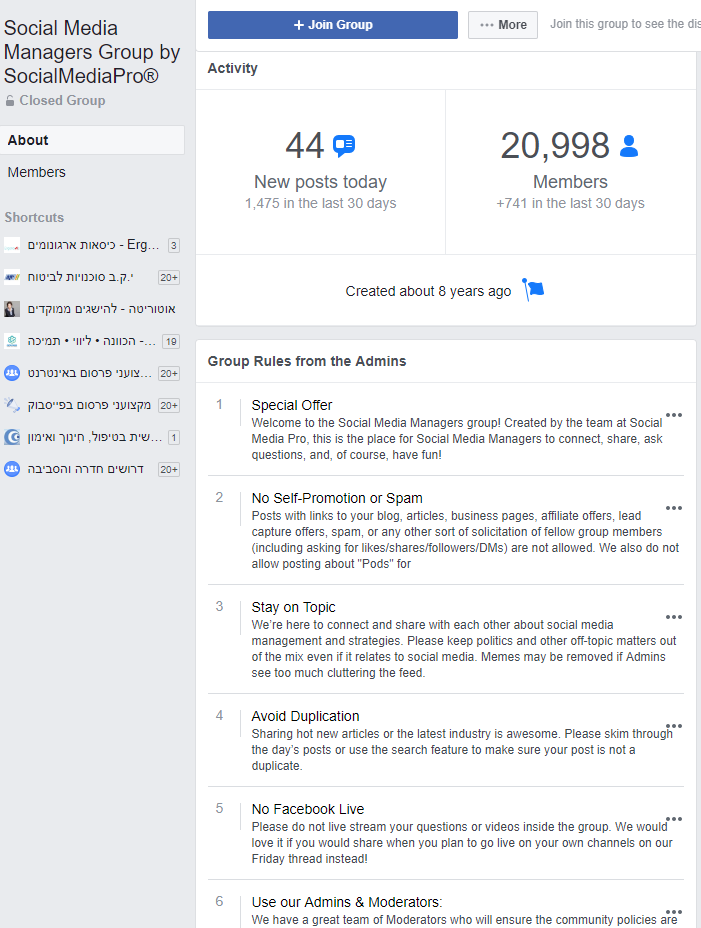 Social Media Managers Group by SocialMediaPro®
Once your group is designed the way you want, start uploading posts (between 3-5) so when new members join, they will have something to read. Make sure one of the posts are "group rules" and pin it to the beginning of the page.
Third step – invite people to join your group. You can start by inviting family and friends, but you want people who don't know you personally to join since in most cases family and friends are not paying customers. Here are some ways to invite members to your group:
Add an invitation to the group in your website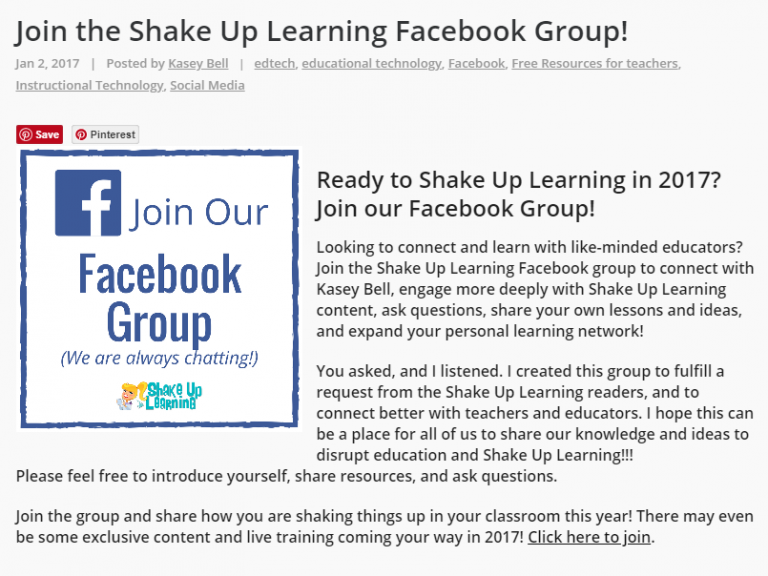 Send an email with a link to your subscribers/followers and tell them you created a new group
Share links of your Facebook groups in all social media platforms you use
Add a Facebook icon on your website that will send the visitors to your group
Fourth step – Think of your content. Before you create a group, take some time and make a strategic plan that supports your goal in opening a group. Is the goal to sell to the group members? Is it to add an extra value to those who've already bought your products?
Decide if the content you provide is inspiring, educational, entertaining or a call to action.
Fifth step – encourage people to engage! The posts you upload in the group must be a 'call to action' and make the members there want to comment, or else they will leave. Here are five ideas to create content:
1. Tutorials – a great way to show that your business is a leader! Create "how to" tutorial videos once a week, tips, questions answering, etc…
2. Live sessions – answer to the audience's questions in a live video. This kind of video lets you gather all members to a specific date where they can see you answer their questions professionally.
3. Quiz – a good way to collect information about your members. Use it to find out about the services or products they'd like to get.
4. Polls – if you need new content ideas, make a Facebook poll to understand your members' preferences. You can ask them about a new title for your blog post, to consult about your new logo, etc.
5. Daily subject line – makes all group members post something new that relates to the topic of the day you chose. Usually, groups set a specific day of the week where they let members share an interesting post they wrote. They can upload pictures of their business or their products. It is a fantastic way to make the members stay determined and expect that day of the week so they can feel they express themselves as well.
In conclusion, groups can be a great and powerful addition to your business, whether you suggest a service or a product. Groups can help you brand your business as an authority in your field. It is important to remember that owning a group has to come with creating a great, interesting and interactive content so you can find new customers, colleagues or business partners along the way. Good luck 🙂